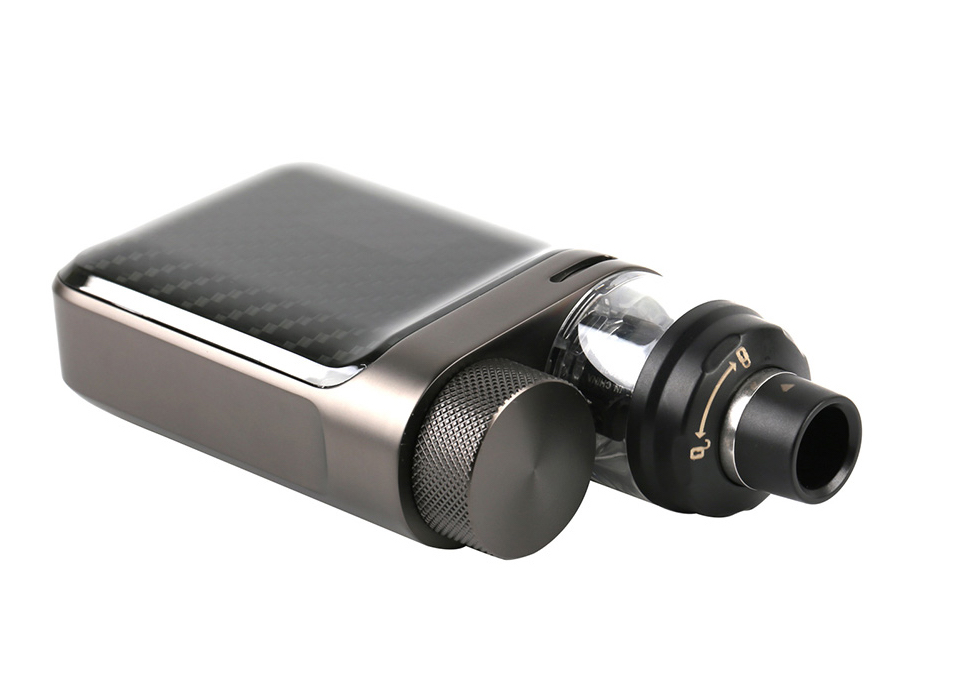 Vaporesso Swag PX80 Kit
DESCRIPTION:
Vaporesso SWAG PX80, has a max output of 80W MOD that provides consistent flavour through a GTX coil adopted pod.
Bringing an end to mess-free coil, replacing with the capability of smooth adjustable airflow.
Hiding the IML screen perfectly beneath the textured cover, it waits for you to explore the innovation from its classic appearance.
Compact yet ergonomic body shape, heightened your vaping experience.

 Embedded IML Screen

•

Replaceable Coil Without Emptying POD

•

Quad Leakage Protection

•

Adjustable Rotating Airflow

•

GTX Platform

•

AXON Chip & External 18650 Batter.

Controlling the Airflow at Will, By rotating the pod to you may adjust the air inlets.

Which overlap the area between the body and the pod to provide accurate air.

The GTX coils and the SWAG PX80 work seamlessly, delivering the ultra-smooth flavour instantaneously while vaping.

The Vaporesso Swag PX80 kit has a Long-Lasting External 18650 Battery.

Stay Powered longer.
N0.1. Sub Ohm Kit of 2021
Buying From iiimage is like buying on Amazon! Our prices are competitive with Amazon!
KEY FACTS:
Vaporesso Swag PX80 Kit
Top filling visible cartridge, with e-liquid self-circulation system & adjustable airflow
GTX 0.6/0.8Ω coil, for delivering pure flavor smoothly
1800mAh built-in battery, output power 5-40W
Turbo boosting tech to generate more powerful output
2ml tank(TDP)
External Battery 18650
Type-C 2A Fast Charging
Output Wattage:5-80W
Coils: GTX 0.2 Ohm Mesh Coil (45-60W)
GTX 0.3 Ohm MESH (32-45W)

Holographic IML Panel

Pocketable size, to feel free on the go; holographic IML Panel
Physical Parameter:
Size:99.7mm x 47.99mm x 25.1mm

Capacity: 2ml (TPD)

Resistance: 0.6/0.8Ω
Colours:
Leather Brown

Brick Black

Gunmetal
Imperial Red
Product Quality and safety:
All of our products are extremely safe, guaranteed to be of the highest quality.
The Vaporesso Swag PX80 Kit is no exception.

Months of rigourous testing, mean that Vaporesso have been able to create a coil we are truly proud of.

With the careful combination of different wicking materials and airflow, optimising the flavours you deserve from your e-juices.

Buying from iiimage is like buying from Amazon, competitive prices!
HOW TO USE:
The Vaporesso Swag PX80 come with a manual please take the time and read thoroughly before using.
RECOMMENDED STORAGE:
To maintain, efficiency, store at room temperature, and out of sunlight.
For best results, keep product in a cool, dark place.
Exposure to heat or sunlight may cause degradation or loss of potency.
WARNING:
Do not use if pregnant or lactating.
This product is not intended to diagnose, treat, cure, or prevent any disease. These statements have not been evaluated by the food and drug administration
MUST BE 18 TEARS OR OVER TO PURCHASE THIS PRODUCT.
All our prices are competitive with buying on Amazon.