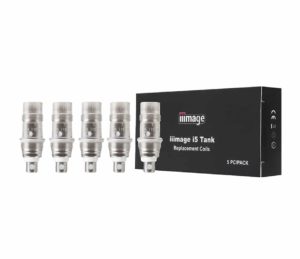 iiimage i5 Replacement Coil
Product Details:

The iiimage i5  Coil  uses a revolutionary new coil design that frees up even more restriction in the airflow by eliminating the need for a static chimney within the tank itself.
This results in an expanded flavour profile and increased vapor production.

Made of stainless steel

Provide excellent flavour

Easy to install and replace

All i5 coil are compatible with Nautilus and Nautilus Mini Tank
Product Specification: iiimage
1 x 5 PCS of iiimage i5 Coils
Features:
New revolutionary Design 

Great Flavour

Great Vapour Productio
Available:
0.15 ohm resistance
1.2 ohm resistance
1.8ohm resistance
Compatibility:
For use with the iiimage i5 Tank
Warranty:
For information regarding our terms and conditions for warranty please click here.
https://www.facebook.com/watch