Wismec R80 Kit 
DESCRIPTION:
The Wismec R80 is a  device can serve as both a pod mod and a regular mod.
Now the R80 makes it possible. Featuring the single 18650 cell with 80W max output and 0.96'' display with changeable colours, R80 comes beyond your imagination.
Moreover, the replaceable coils with adjustable airflow system will be another major attraction of R80.
Faster charging, visible large capacity, humanized cover open way, R80 will be your priority whatever in appearance or functionAnother major attraction of R80 is its humanized battery cover open way.
By rotating the buckle, you can replace the 18650 battery quickly and easily. You can also unscrew the battery cover with a coin.4ml ultra large cartridge is another highlight of R80. The whole cartridge is transparent and visible, vapers can notice the e-liquid remaining level whenever and wherever.
KEY FACTS: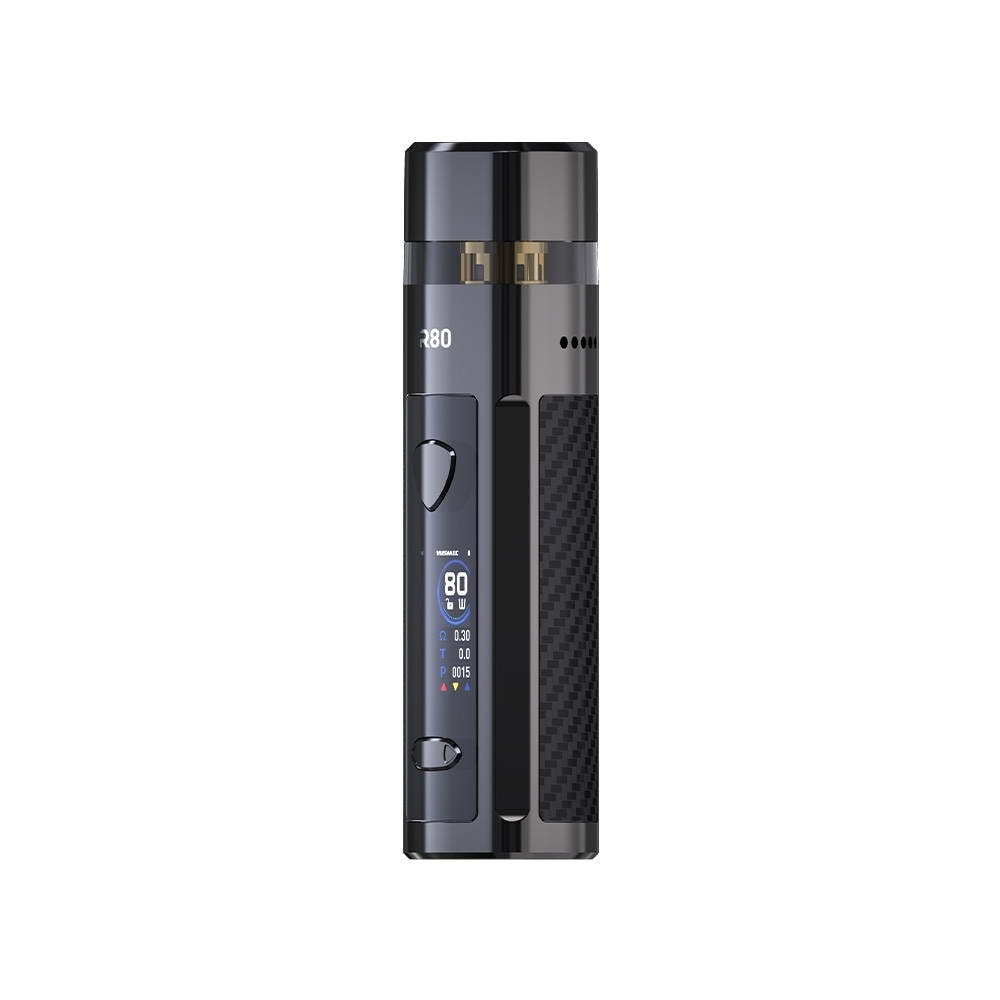 Size: 116.2 x 32 x 31.5mm
Weight: 111g
Cell type: high-rate 18650 cell
(discharging current should be above 25A)
E-liquid capacity: 2ml/4ml
Resistance: 0.3ohm Mesh and 0.8ohm Nicr CoilMaximum charging current: 2A
Maximum output wattage: 80W
Colors: classic legend, meteor shower, northern light ,ocean  star, Quantum world.
Kit Contains:
1 x R80 (without cell)
1 x R80 Cartridge
(WV-M 0.3ohm Coil Pre-installed)
1 x WV01 Single 0.8oh
m Coil
1 x USB-C Cable
1 x User Manual
1 x Warranty Card
2 x Warning Card
Colours:

 
classic legend,

meteor shower,

northern

lights, ocean star,

quantum world

.
Product Quality and safety:
All of our products are extremely safe, guaranteed to be of the highest quality, the Voopoo Drag S Box Kit Pod Kit 2500mAh is not exception. Rest be assured that you can vape using our Cannapresso CBD Vape E-liquid without any reservations.
A perfect way to relax after an exhausting day! This vape device coupled with a Great CBD Vape E-liquid will elevate you mood and keep you smiling.
We offer a choice of natural flavours to choose from our exceptional range of CBD Vape E-liquids;
Mango,
Strawberry,
Grape and
Tobacco.
HOW TO USE:
The Voopoo Drag S box  Kit come with a manual please take the time and read thoroughly before using.
Conservative dosing is highly recommended to determine your personal psychoactive effect when using our Cannapresso CBD Vape E-liquids.
RECOMMENDED STORAGE:
To maintain, efficiency, store at room temperature, and out of sunlight.
For best results, keep product in a cool, dark place.
Exposure to heat or sunlight may cause degradation or loss of potency.
WARNING:
Do not use if pregnant or lactating.
Allergen Information: Manufactured in a facility which produces products that may contain nuts, dairy, wheat, gluten, egg and soy products.
Always consult a medical doctor before modifying your diet or using any new product.
This product is not intended to diagnose, treat, cure, or prevent any disease. These statements have not been evaluated by the food and drug administration
MUST BE 18 TEARS OR OVER TO PURCHASE THIS PRODUCT.